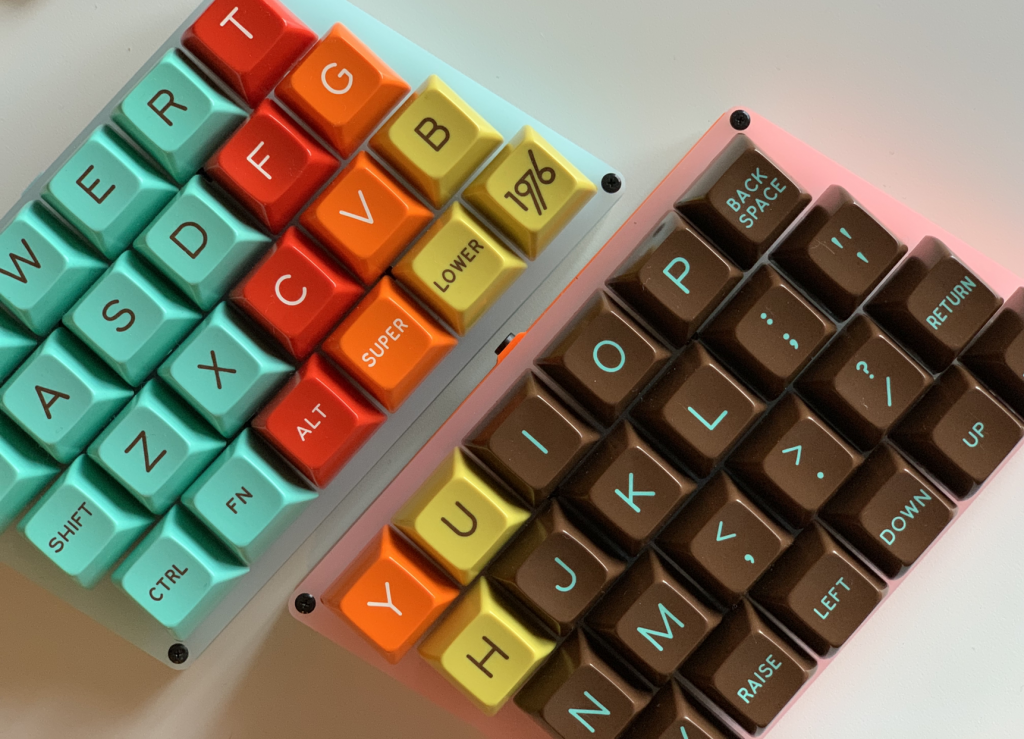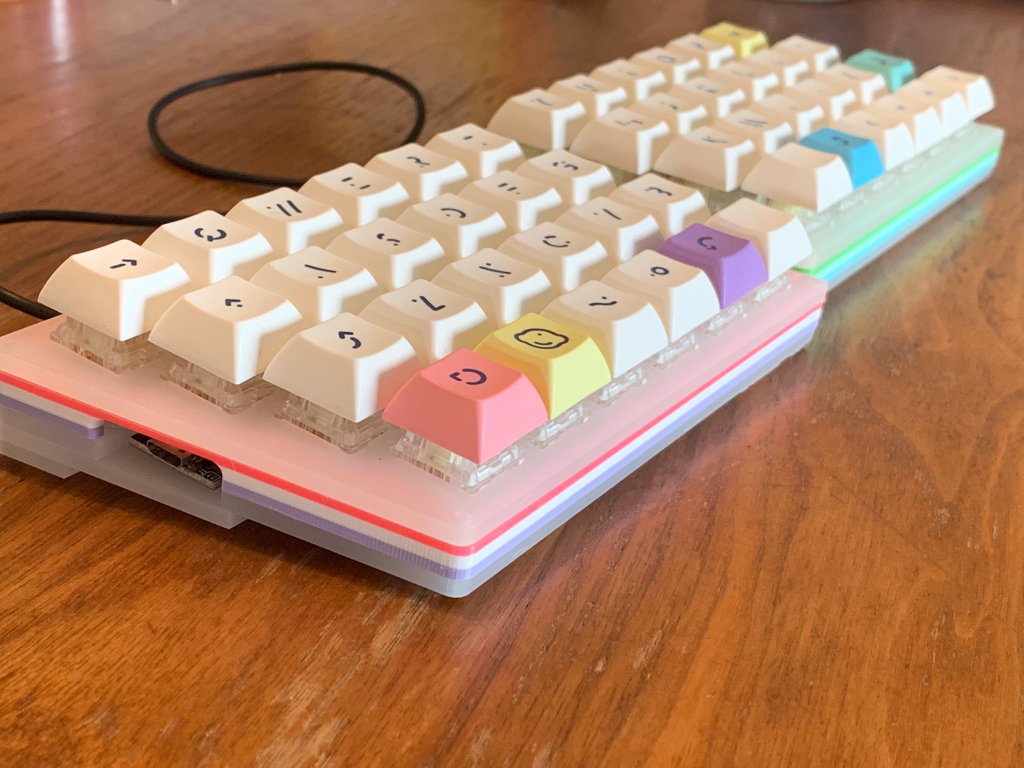 Zinc is a row-staggered split keyboard inspired by Let's Split, Zlant and Helix.
Basically, I provide 3 type kits.
Basic Kit contains

2 x PCB
2 x acrylic switch plate
2 x acrylic bottom plate
2 x  acrylic foot plate (large)
2 x  acrylic foot plate (small)
16 x M2 Spacer 6mm
24 x M2 screw 5mm
8 x M2 screw 5mm for switch plates
8 x M2 screw 8mm
4 x M2 screw 12mm
8 x cushion seal
2 x TRRS jack
2 x tact switch
48 x diode

ProMicro Kit contains

All components of Basic Kit
2 x ProMicro (Chinese board)
4 x Conthrough (solderless pin header. Though you still need soldering on ProMicro side.)

Deluxe Kit contains

All components of ProMicro Kit
55 x RGB LED SK6812mini
Nothing is pre-soldered. So the soldering tool is required.
It's difficult to mount/solder SK6812mini chips.
If you don't need LEDs, it's not so difficult.
Acrylic Color
Standard Zinc (Half Translucent Milky White)
OTKB (Matte Black)
Glass (Matte Glass Color)
Price
Basic Kit – US$85
ProMicro Kit – US$102
Deluxe Kit – US$118
Additional Accent Plate, Candy Plate
Accent Plate: 3D printed middle plate that decorates the case
Candy Plate: accent plate with 3 color stripes
US$ 19 for left and right plates (US$5 discount if ordering with any Zinc kit)
Made to order
Choose the color in the ordering form
Or you can print by yourself!
Shipping and Handling
Asia: US$10 per kit
North/Central America, Middle East, Oceania, Europe: US$12 per kit
South America, Africa: US$15 per kit
Order Form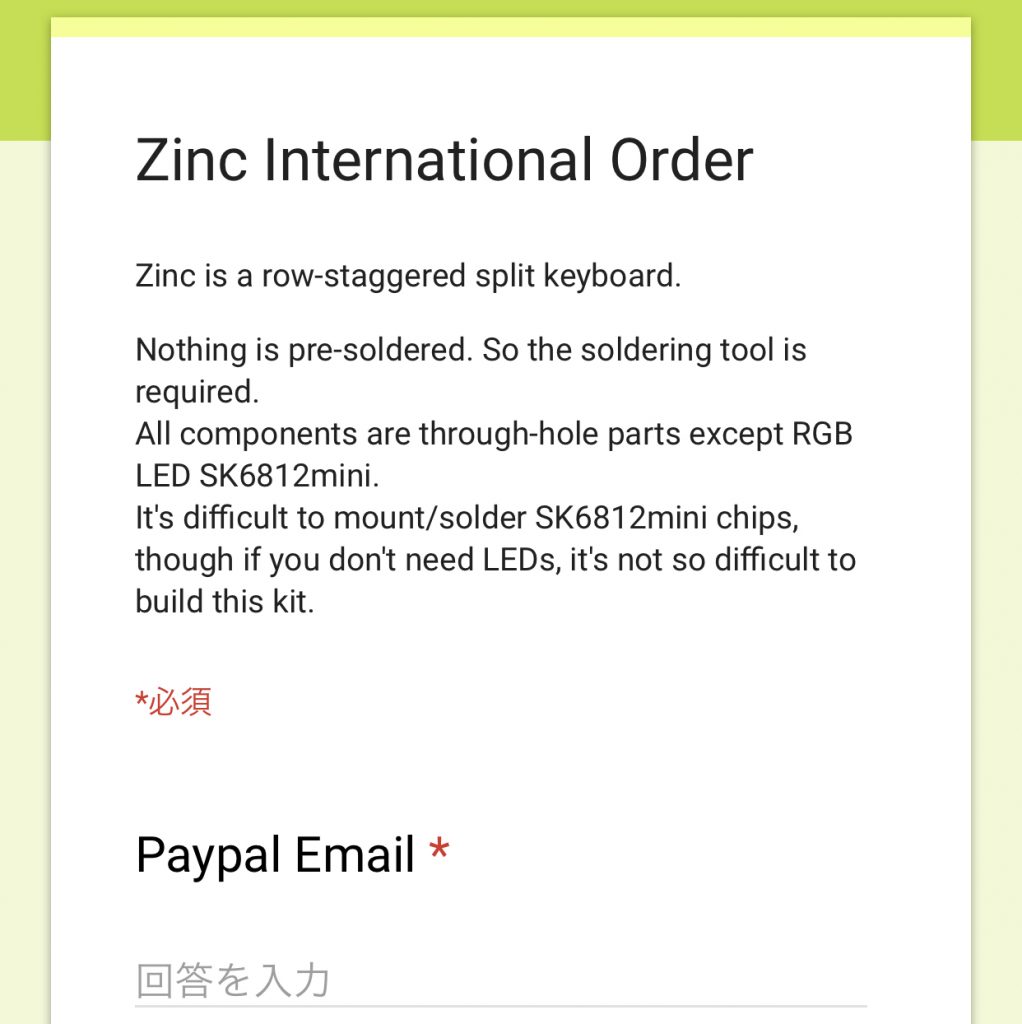 https://docs.google.com/forms/d/e/1FAIpQLSd7_F8XVt1RqXOnUEJnUlsp-Le3FqmRBlPlw38iEX3xSaJLZw/viewform?usp=sf_link
Zinc Build Guide